Takayu Onsen and
Jododaira Trekking
Jododaira, part of Bandai-Asahi National Park, is a major trekking destination
featuring some of the best courses in Fukushima Prefecture.
The Bandai-Azuma Skyline, which runs along Jododaira, is treasured for its unbroken panoramic vistas and
its convenient location about a one-hour drive from Fukushima Station.
The scenic pass is a perennial favorite amongst bikers,
who have consistently named it one of Japan's 10 best roads.
Jododaira features a large parking lot, hiking trails, nature walks,
and more around its Visitor's Center. It offers people of all ages and
trekking experience levels a multitude of ways to enjoy the mountains and nature.

Bandai-Azuma Skyline


This road offers seasonal attractions such as scenic winter drives through the snow corridors, verdant panoramas from early spring to late summer, and autumn colors on a massive scale.


Mt. Azumakofuji


Enjoy epic panoramas during a 90-minute loop of this volcano's crater.


Jododaira Wetland


Take a 60-minute stroll through these marshlands, which become a treasure trove of alpine plants from May to late summer.


Mt. Issaikyo


Hike to the summit of this active volcano while listening to the sound of its bellowing smoke. From there, take in the stunning views of the emerald green water of the Witch's Eye, also known as Goshikinuma Pond.


Kamanuma


This pond boasting otherworldly scenery reminiscent of a heavenly water garden is a mere 60-minute hike from the Visitor's Center.


Keibadaira


Made famous by the posters of major travel agencies, this scenic marshland can be reached in about 40 minutes from Bandai-Azuma Skyline's Torikodaira entrance.
This guide to trekking in Takayu and Jododaira features information based on our actual experiences trekking each of the courses,
as well as the photos we took during these treks. We hope it helps you thoroughly enjoy your trip to Takayu and Jododaira!
Takayu and Jododaira
Trekking Course View Guide
Trekking Course Map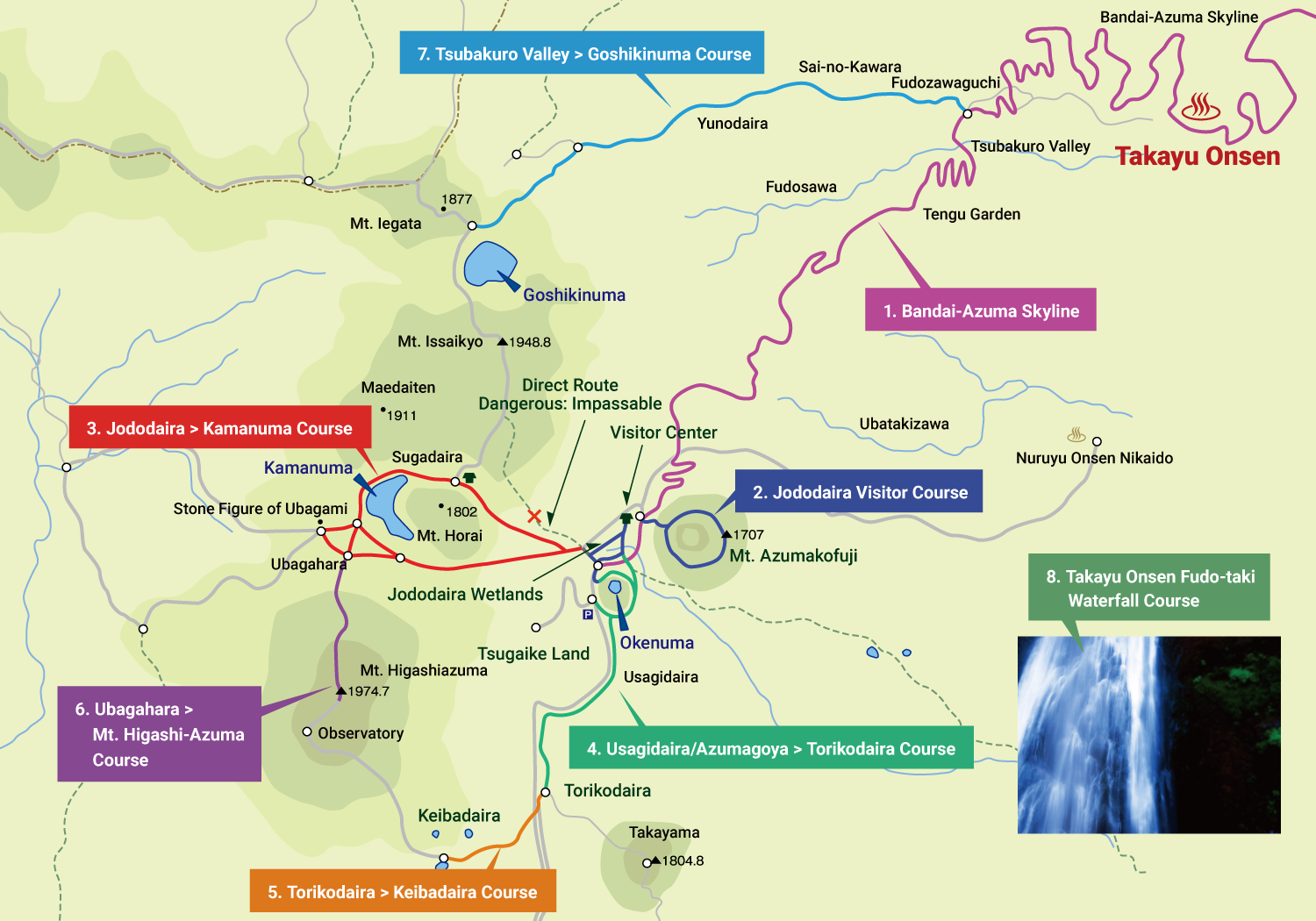 * Click one of the eight course names for more information.
1. Bandai-Azuma Skyline
This road with incredible scenery is the biggest reason why tourists visit Fukushima Prefecture.
The fabulous panoramic views go on and on from the comfort of your car.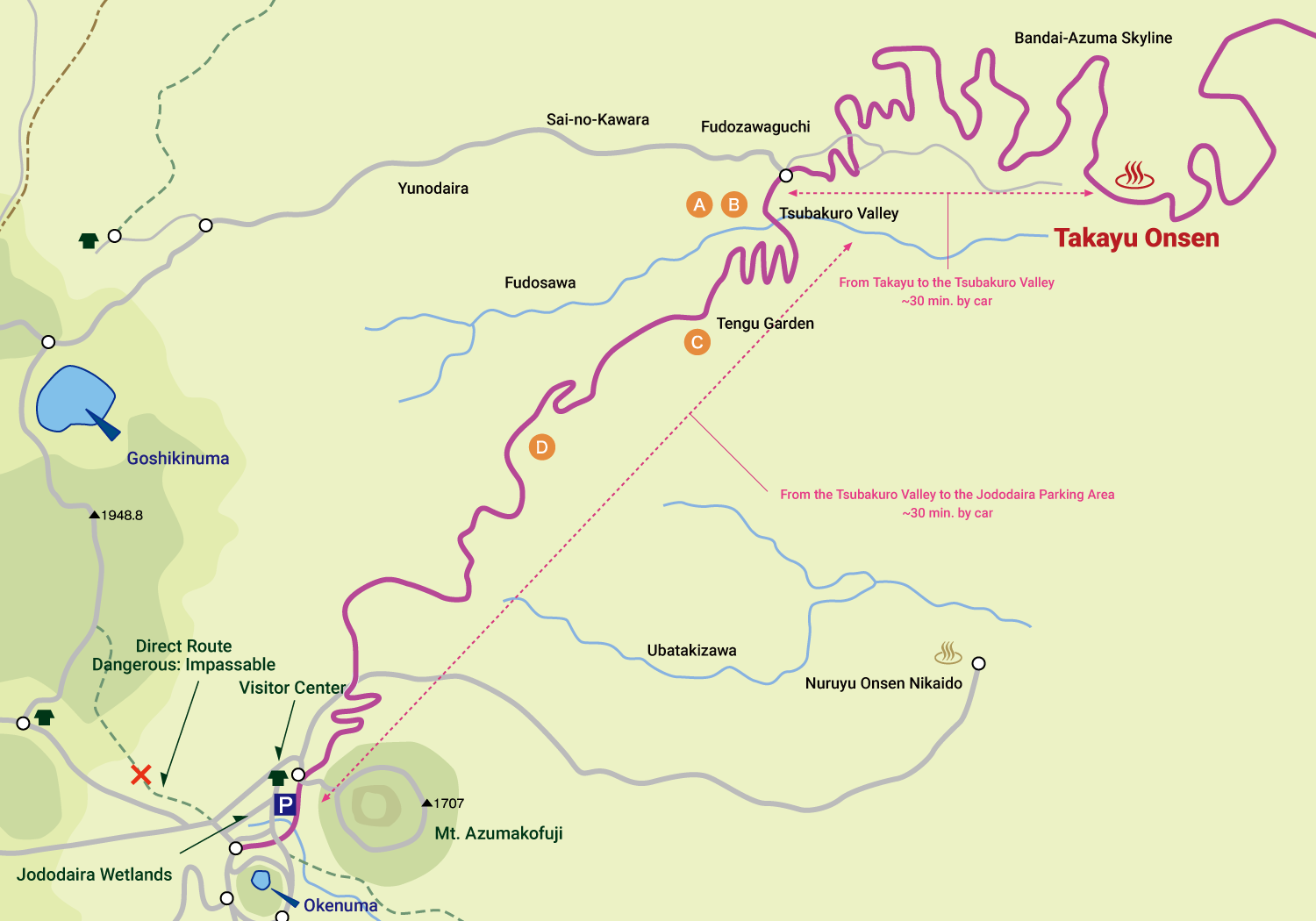 2. Jododaira Visitor Course
This main attraction for visitors to Jododaira offers amazing views of area, the peaks of Abukuma and the city,
all from a volcanic caldera. You can also explore the wetlands of Okenuma.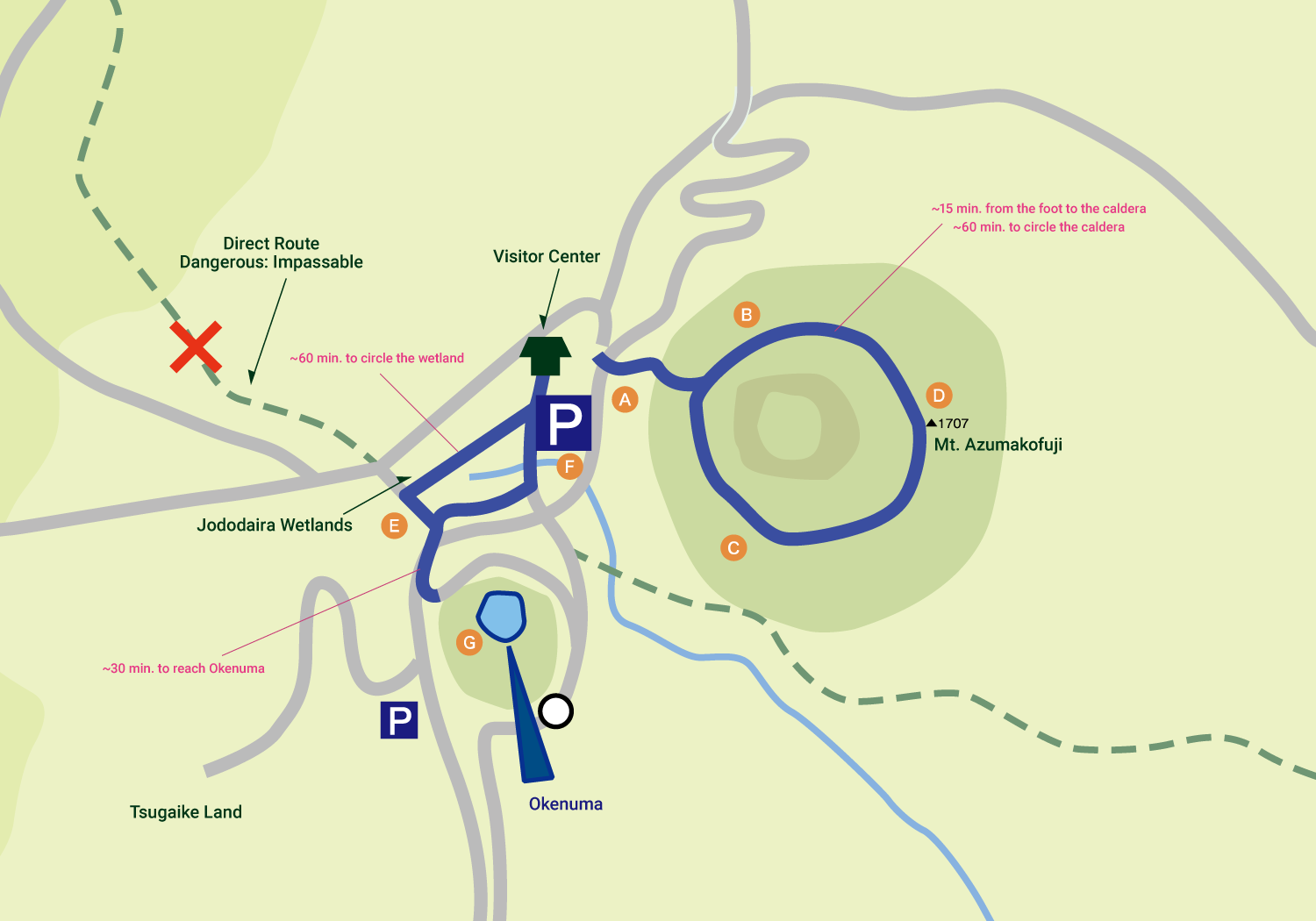 3. Jododaira > Kamanuma Course
Just a 70-minute climb from the Jododaira Parking Area.
Awaiting you is the sight of the mythological World of Darkness. Enjoy a leisurely stroll along the boardwalk.

4. Usagidaira/Azumagoya > Torikodaira Course
There is a camp site in the woods at Usagidaira. Deep in the woods is Azuma-Goya,
a lodge catering to mountain climbers. At Torikodaira, visitors will be soothed by some of Jododaira's best wetland scenery.
* This course is under survey for typhoon damage.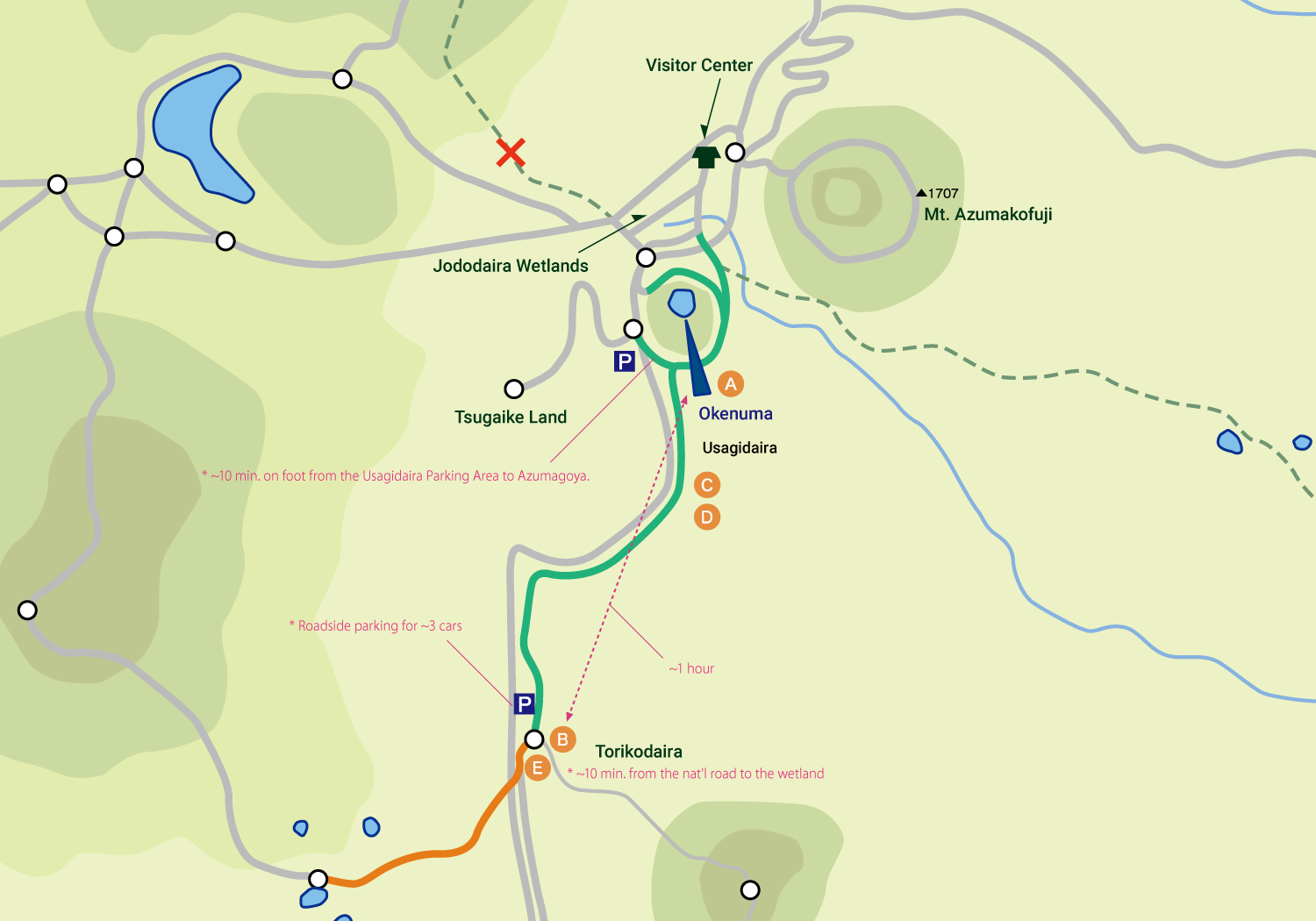 5. Torikodaira > Keibadaira Course
Keibadaira is the best example of the wetland landscape in Jododaira. The terrain,
peppered with large ponds and swamps, changes faces in spring, summer and autumn.

6. Ubagahara > Mt. Higashi-Azuma Course
Climb another hour or so from Ubagahara to reach Mt. Higashi-Azuma.
Lake Inawashiro is visible in the distance from this spectacular panoramic spot!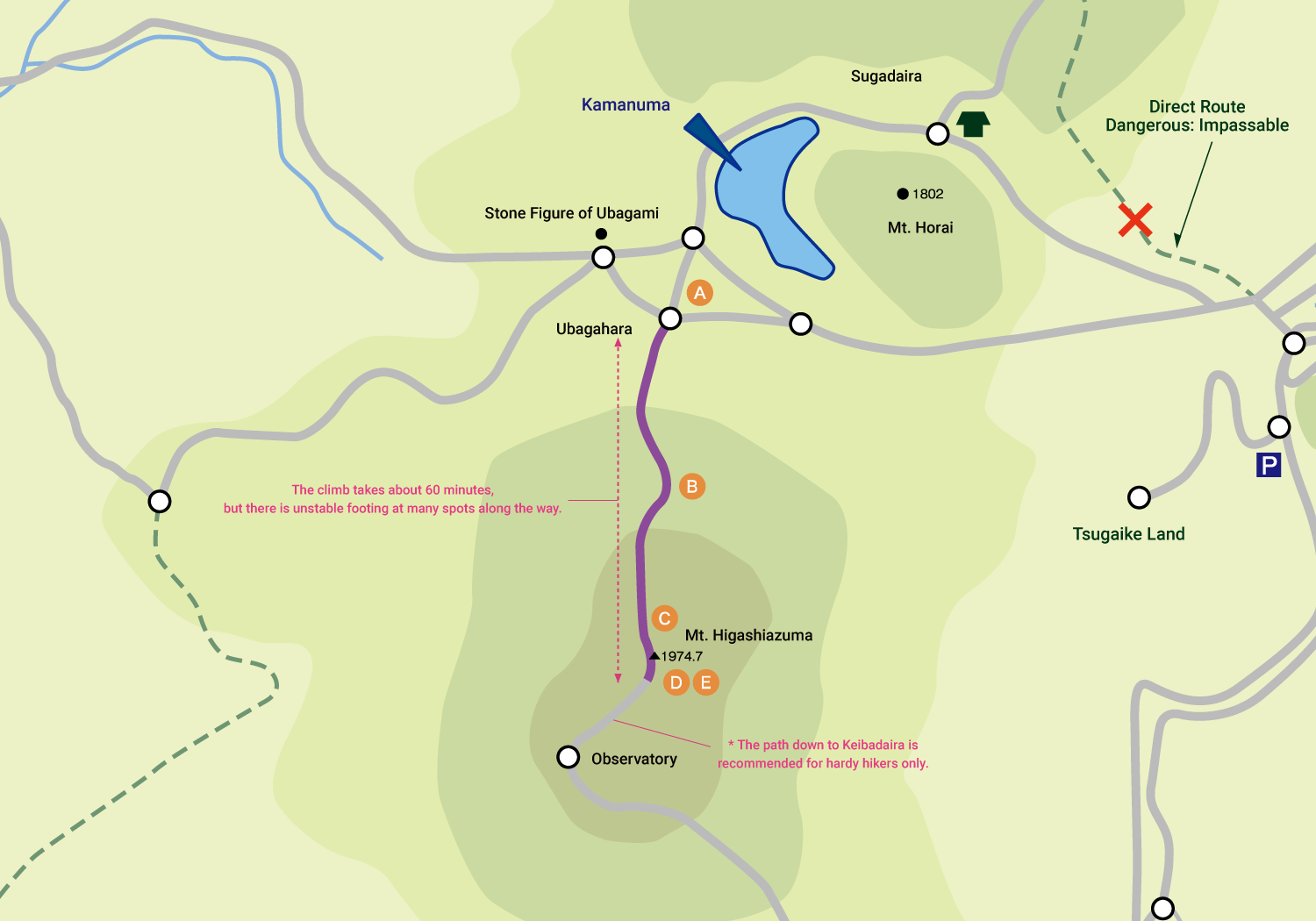 7. Tsubakuro Valley > Goshikinuma Course
This course traverses from Tsubakuro Valley at the midpoint of the Takayu side of the Azuma Skyline to the Witch's Eye,
also known as Goshikinuma Pond. Although not a technically challenging course,
it is best suited for intermediate trekkers. The views of the Goshikinuma Pond and Mt. Issaikyo are stunning.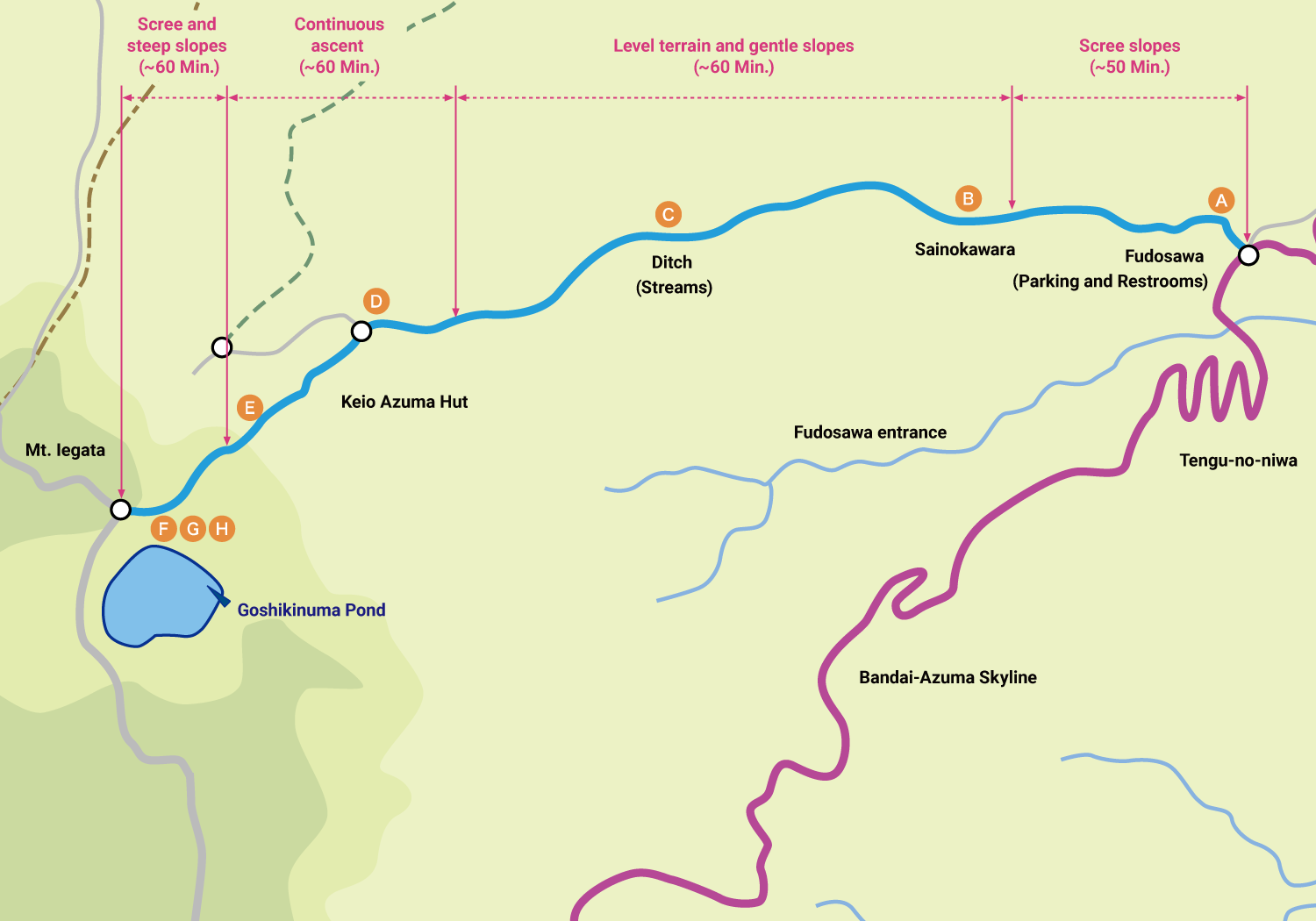 8. Takayu Onsen Fudo-taki Waterfall Course
Get a fabulous view of a beautiful waterfall at Takayu Onsen. The majestic falls,
guarded by a mythological Wisdom King, change their appearance with each passing season.
*The promenade bridge in front of the waterfall has collapsed.
It was closed to traffic from July 2023 by the administrator, Fukushima City.
There is no prospect of repairs and reopening.
Please be careful.